28 Jan

14 States Where Marijuana Remains Entirely Illegal

Since 2021 began, perhaps no industry has created more buzz than cannabis. It's certainly not hard to understand why. Some estimates suggest that annual US pot sales could triple between 2019 and 2025 to more than $41 billion. In the November election, 36 states waved the green flag on medical marijuana, 15 of which also allow for the consumption
and/or retail sale of recreational use weed. You could rightly say the US is going green at an extraordinary fast pace.
Marijuana is Still Illegal in More Than a Dozen States
More than 68% of respondents in a recent survey favored nationwide legalization of cannabis.
However, more than a dozen states have resisted the calls to legalize marijuana. Here are the states where marijuana remains entirely illegal:
Alabama
Georgia
Idaho
Indiana
Iowa
Kansas
Kentucky
Nebraska
North Carolina
South Carolina
Tennessee
Texas
Wisconsin
Wyoming
With many groups of survey respondents in favor of legalization at a national level, there is one group that still widely opposes legalization. The breakdown shows that 83% of Democrats and 72% of Independents want to see marijuana legalized nationally, compared to 48% of Republicans. The states that continue to keep marijuana illegal are Republican run states, or have leaned red in the past. Only 3 of those 14 states (Idaho, Nebraska and Wyoming) give the residents the option of introducing a ballot measure by collecting signatures. With enough signatures, the proposition would have the potential of getting on the ballot in a general election. The other 11 states rely on their respective legislatures to enact change on the cannabis front.
Will Biden Shake Up the Cannabis Landscape?
Marijuana stocks have been in all-out rally mode since the year began. President Joe Biden took office last week, and both Democratic Party candidates from Georgia won their respective Senate runoff elections. As a result, the Democrats control the legislative branch of the federal government. On paper, this makes the prospect of federal legalization far more likely than if Republicans had held onto their majority in the Senate.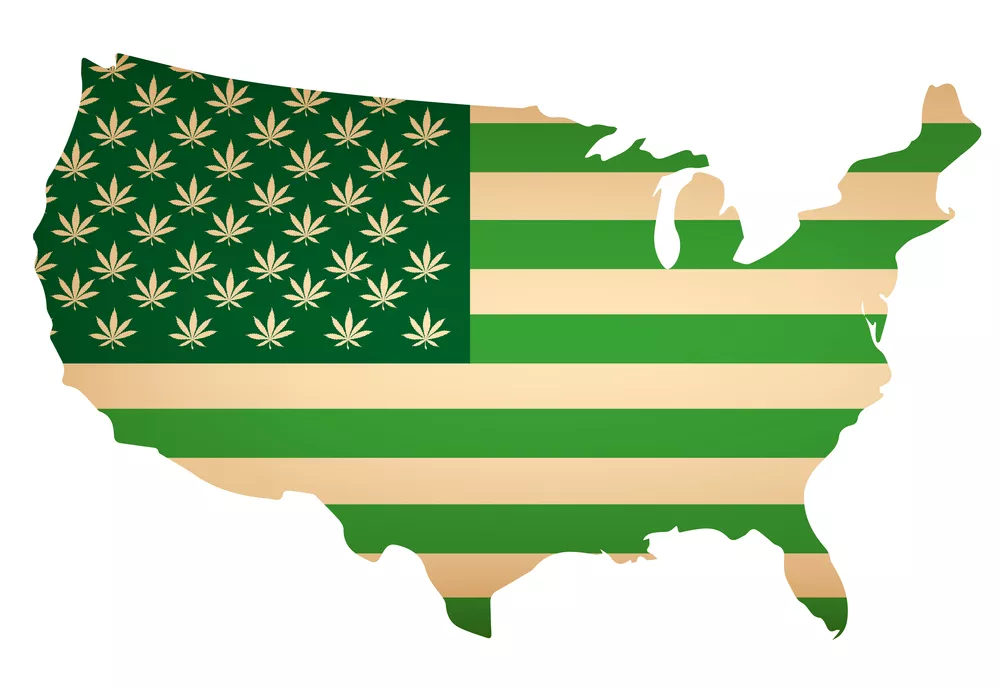 What's especially noteworthy about this shift is that Republican Mitch McConnell is no longer Senate Majority Leader. McConnell strongly opposes cannabis legalization measures and has almost universally blocked bills containing marijuana legislation from reaching the Senate floor for a vote. With the new Senate Majority Leader, Chuck Schumer, a Democrat, we are more likely to see cannabis legislation at least reach the Senate floor. However, this doesn't guarantee major changes will happen in cannabis policy at the federal level. While President Biden did advocate for decriminalizing and rescheduling marijuana, that is a far cry from legalization and he hasn't offered support for full legalization.
No Matter What Happens, US Pot Stocks are in Great Shape
If there is a green light at the end of the tunnel, it's reserved for marijuana stock investors. At this point, cannabis companies are in great shape whether the federal government takes action or not. As long as the Justice Department maintains a hands-off approach, pot stocks will be free to operate in the three dozen legalized states.
One company that's likely to make history is Curaleaf Holdings. Following its acquisition and it's buyout of multistate operator (MSO) Grassroots, Curaleaf is on track to be the first pot stock to hit $1 billion in annual sales this year. The Grassroots deal also expanded Curaleaf's presence to 23 states, which is nearly 2/3rds of the currently legalized market.
Cannabis focused real estate investment trust, Innovative Industrial Properties, is an ancillary player that has a great chance of thriving if Biden only reschedules cannabis. Innovative Industrial Properties (IIP) relies on its sale-leaseback program to grow its business. With this program, IIP buys cultivation and processing facilities from cash-needy MOSs, then immediately leases these properties back to the seller. The MSO receives much-needed cash, while IIP lands a longtime renter.