23 Jan

Medical Marijuana May Lead to Reduced Opioid Use
A New Study
Medical marijuana use is associated with significant reductions in dependence on opioids and other prescription drugs and to increase quality of life, a new study has found. A study performed in Canada, analyzed the rate of prescription drug use and quality of life when incorporating cannabis into the treatment regimen. It involved 1,145 patients sourced from 21 medical clinics throughout the country. The findings showed that baseline opioid use among participants dropped from 28% to 11% over the course of 6 months when marijuana was integrated into their treatment.
Study Findings on Medical Marijuana and Opioid Use
It also showed that daily opioid use went from 152mg MME at the start of the study to 32.2mg MME 6 months into the study. This was a 78% reduction in average opioid dosage. Philippe Lucas, lead study author, stated "The results of the Tilray Observational Patient Study add to a growing body of evidence that cannabis use can lead to a reduction in the use of prescription drugs, alcohol, tobacco, and other substances."
"In light of the devastating impacts of the opioid overdose crisis in Canada and around the world, research examining the potential influence of cannabis on opioid use may be of particular importance to public health. These findings lead to reduction strategies to lessen the significant morbidity and mortality associated with opioids," he said. There were also similar reductions in the 4 other drug categories that the study investigated. These included non-opioid pain medication, anti-depressants, benzodiazepines and anti-seizure drugs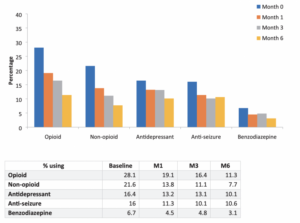 "The high rate of cannabis use for chronic pain and the subsequent reductions in opioid use suggest that cannabis may play a harm reduction role in the opioid overdose crisis. By reducing the opioid crisis, this would potentially improve the quality of life of patients and overall public health," the study abstract says. While numerous observational studies have concluded that cannabis represents a potentially safer and effective alternative to opioid-based pain medication and other drugs, the researchers said the methodology they used makes their findings unique.
"These findings provide a more granular understanding of the variables associated with reductions in prescription drug use and improvements in quality of life associated with medical cannabis in a number of different contexts," the study states. Even as prescription drug use declined, marijuana consumption among patients did not significantly increase over the six months. That finding is "that although patients appear to develop a tolerance to some of the side effects of cannabis-based medicines, they do not seem to develop a tolerance to many of the primary therapeutic effects."
They also noted that the median age of those involved in this study was 52. The results are promising given that surveys indicate older demographics are increasingly consuming cannabis for therapeutic purposes. Quality of life indicators also improved among patients over the six months they incorporated marijuana into their treatment plan. That includes factors such as physical health, psychological wellbeing and social relationships.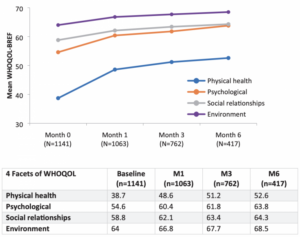 Conclusion
"Although cannabis use is not without potential risks in certain individuals and/or vulnerable populations, if medical use can provide a relatively safe and effective alternative to prescription drugs, then perhaps cannabis should also be viewed as a potential harm reduction tool that may be effective in addressing the opioid overdose crisis," the study concludes.
"Data from the present study could inform current and future opioid reduction strategies, particularly in patient populations addressing chronic pain. Further observational and clinical studies examining the impact of cannabis on the use of prescription drugs and other substances are warranted," it adds. This research could also provide valuable context to a federal health agency in the U.S. to learn if marijuana could potentially treat chronic pain with fewer side effects than opioids. Researchers said that there are significant strengths to the study but also some limitations, most notably that Tilray provided participants with credits to obtain medical cannabis, which could have led to a retention bias.