12 Feb

New Report Suggests Marijuana Could Bring Billions to New York

New York could create over 50,000 jobs and rake in billions in revenue in the coming years if recreational cannabis is legalized this year, according to a new economic analysis. A report released on February 10th, 2021 argues that marijuana legalization this year could provide significant relief to the economic and budget shortfalls caused by COVID-19 across the state. The analysis was funded by a company pushing marijuana legalization. The company's name is Miracle-Gro, a major fertilizer manufacturer whose product could be used by prospective cannabis growers. The report claims tax revenue in New York would increase by almost $160 million if recreational marijuana passed in 2021.

"Legislation would provide a substantial opportunity to create and diverse small businesses, quality jobs and strengthen rural and urban economies and communities," James Parrott of the Center of NYC Affairs at The New School stated.
Report's Findings Focus on Economic Benefits
Governor Andrew Cuomo and top Democratic lawmakers are pushing for legalizing adult-use marijuana in New York, though their legislative proposals differ. Parrott and Michele Mattingly, an economist, analyzed the economics of legalization. Their findings include:
Annual retail sales of adult use marijuana are projected to rise from $566 million in fiscal year 2023 – when legal sales would likely first be authorized if approved this year – to $2.6 billion in 2027 and could reach $3.9 billion by 2032.
Legal recreational marijuana under Cuomo's proposal may bring in as much as $159 million in state excise and sales tax revenue by 2023, up to $765 million in 2027 as current users are drawn towards the legal retail market
Every $1 billion in recreational cannabis would create an estimated 19,400 jobs in cultivation
Adult use marijuana sales will add an estimated $6 billion in economic output in New York by fiscal year 2027
"Legalization will create the opportunity to expand the fledging medical marijuana industry and, to some extent, develop an entirely new legal adult-use cannabis industry," Parrott and Mattingly reported.
The sponsor of the study, Miracle-Gro, has been active in the push to legalize marijuana in at least one other state. The company donated nearly $1 million towards recreational marijuana legalization in New Jersey.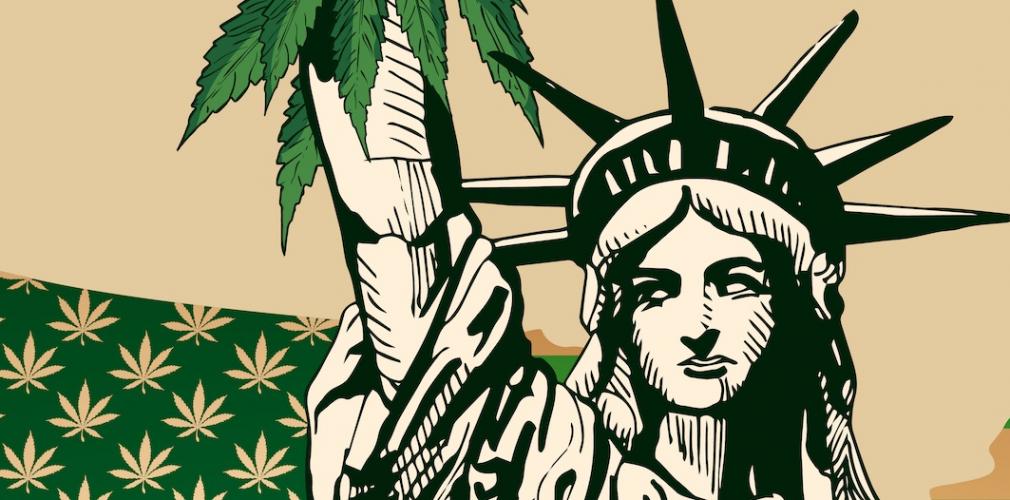 Critic Pushes Back Against Findings
The governor's proposal for legalization includes social equity measures such as low or zero interest loans for small businesses, as well as priority submissions for adult-use licenses to be made available for communities most impacted by marijuana criminalization. Some Democratic lawmakers have pushed for more of a focus on providing grants and other revenue to communities of color that have been disproportionately affected by tough drug laws. Opponents of legalization say the debate over recreational marijuana is not just about the bottom line.
Kevin Sabet, president and CEO of Smart Approaches to Marijuana, an organization that opposes recreational marijuana use, said law enforcement will need increased funding as a result of legalization. He also stated that no state that has passed recreational cannabis legislation has been able to meet its revenue projections from the start. Sabet argues that increased drugged driving, substance abuse and hospitalizations as a result of marijuana are more likely to trim off net revenue projections.
Back in 2011, Cuomo was against legalization for both recreational and medical use. The governor reversed his position on medical marijuana in 2014 when he signed a bill legalizing the program. Cuomo later reversed his position on recreational marijuana in 2018 and has pushed for legalization since then.